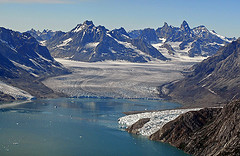 Aware of the suspicions some countries have about its intentions in the Arctic, China is downplaying its interest in the region's minerals, oil and gas and is instead focusing on climate change and shipping routes. 
Nevertheless, according to the latest SIPRI Policy Paper, China's Arctic Aspirations, by Linda Jakobson and Jingchao Peng, China is determined not to be sidelined in decisions that it believes will directly affect its economic interests. 
Calling on the SIPRI Arctic team's unique country expertise, the report outlines China's evolving Arctic policy and activities, explains the thinking behind them, and highlights the diversity of views within China on how it should approach Arctic issues.
Download the Policy Paper. Read the press release in English or Swedish (PDF). 
Watch a video about the report on SIPRI's YouTube channel.