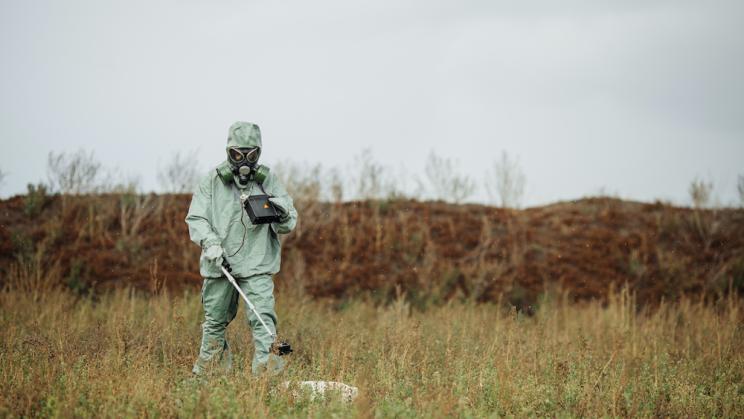 10 November 2022, 16:30–17:45 CET 
The Russian military's invasion of Ukraine in February 2022 and the ensuing events—including seizures of nuclear installations, detention of personnel and attacks on infrastructure by state forces—call for a rethink of basic assumptions in nuclear safety and security. In normal circumstances, existing national and global regimes account for risks, and often they seek to prevent, detect and respond to incidents that may involve malicious intent. But many existing instruments, including the International Convention on the Suppression of Acts of Nuclear Terrorism (ICSANT), the activities of the Global Initiative to Combat Nuclear Terrorism (GICNT) and the International Atomic Energy Agency (IAEA) Nuclear Security Series guidance documents, target exclusively non-state actors. Moreover, the scale of threat to nuclear power plants evidenced in Ukraine is unprecedented.
This session considers means to strengthen the nuclear safety and security regime against potential sustained, long-term and large-scale threats, including from state actors and in conflict conditions, such as in Ukraine. It explores the extent to which regime resilience exists, including the viability of national and regional response and assistance plans. Experts will provide policy recommendations for how different stakeholder groups can contribute to upholding nuclear safety and security even in the most extreme of circumstances. 
Moderator
Vitaly Fedchenko

Vitaly Fedchenko is a Senior Researcher with the SIPRI Weapons of Mass Destruction Programme, responsible for nuclear security issues and the political, technological and educational dimensions of nuclear arms control and non-proliferation. He is the author or co-author of multiple publications on nuclear forensics, nuclear security, and nuclear non-proliferation.
Discussants
Mona Ali Khalil

Mona Ali Khalil is a public international lawyer with 25 years of UN experience including as a Senior Legal Officer in the UN where she advised on peacekeeping and sanctions as well as in the IAEA where she advised on nuclear security.

She is an Affiliate of the Harvard Law School Program on International Law and Armed Conflict and a Non-Resident Fellow of the UN Institute for Disarmament Research. She is the Director of MAK LAW INTERNATIONAL - a strategic consulting service advising Governments and intergovernmental organizations in the service of "We the Peoples". She has a B.A. and M.A. from Harvard University and a M.S. in Foreign Service and a Juris Doctorate from Georgetown University.
Robert E. Kelley

Robert Kelley is a veteran of over 35 years in the US Department of Energy nuclear weapons complex, most recently at Los Alamos.

He worked in research and engineering before turning to information analysis in the 1980s. He managed the centrifuge and plutonium metallurgy programs at Lawrence Livermore National Laboratory and later was Director of the Department of Energy Remote Sensing Laboratory, the premier US nuclear emergency response organization. He was also seconded by the USDOE to the IAEA where he served twice as a Director of the nuclear inspections in Iraq in 1992 and again in 2001. Kelley is currently based in Vienna. He has carried out professional travel to more than 20 countries. 
Anita Nilsson

After having served at senior positions at Swedish nuclear regulator, the Swedish Nuclear Safety Authority, Dr. Nilsson joined the IAEA in 1996 as Senior Coordinator for international safeguards. In 2003 she was appointed Director of IAEA Nuclear Security Office, a position she held until 2011. Anita Nilsson was the IAEA Gender Focal Point, 2005-2009.

Presently Dr. Nilsson is an independent consultant contributing to excellence in the safe and secure use of nuclear applications for development, i.e. the deployment of non-fossil energy sources such as advanced reactor technology as well as radiation therapy. Recent work includes the contribution of criteria for non-proliferation and nuclear security by design, and the establishment of international, industry standards for risk-reduction.

Dr. Nilsson is a member of the IAEA Director General Advisory Committee on Nuclear Security, AdSec, a member of the World Federation of Scientists, Senior Associate of the Partnership for Global Security, and a member of Chatham House.